Yoga outdoors
June 30, 2014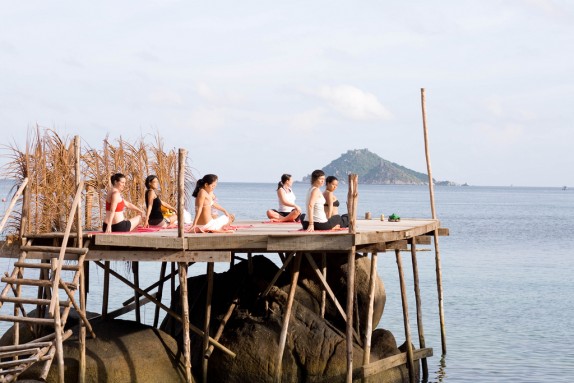 By practicing yoga in a studio, the instructor recreates a relaxing atmosphere with pleasant sounds and adequate light. This is perfect season to get in touch with nature in the outdoors, so you should include a Yoga class too.
While being outdoors, nature inspires focus, breathe deeply and we appreciate much more our surroundings. We suggest you try the best possible contact with nature, so you can take your practice on the beach, in a garden or by a lake. It's very important to get a comfortable environment and take advantage of the sunlight. The Sun Salutation is a complete exercise where you follow the sequence with the rhythm of breathing and meditation, while facing the sun.
Having a Yoga class in the outdoors also brings the best playlist ever: the birds, the wind, or even the sound of the waves can raise your consciousness much faster. You should also have to keep in mind some details if you are going to experience a yoga session outdoors. Uneven terrain helps you to exercise some muscles better than in a yoga studio. You also have to make the decision to bring your Yoga Mat or not, depending on terrain maybe you can find some stones, although some people love to feel the sand or grass directly. Bring sunscreen, plenty of water, an extra towel, and even a mask or hand towel for Savasana.
The greatest benefit to take your practice to open space is the change in perspective. If you get used to making your sessions on the Yoga studio or in your home, you get used to the atmosphere and focus on yourself. If you take out this practice, you may find yourself more attuned to nature and everything that surrounds you, it will be a fascinating experience. Remember to schedule a session with your Yoga instructor, or ask him about a routine to follow and some advice; it is always important to have excellent communication with him, your instructor will help you get the best of you.
So you just need to plan your outdoors session and, get up early!
Picture by
Lachlan Hardy
.